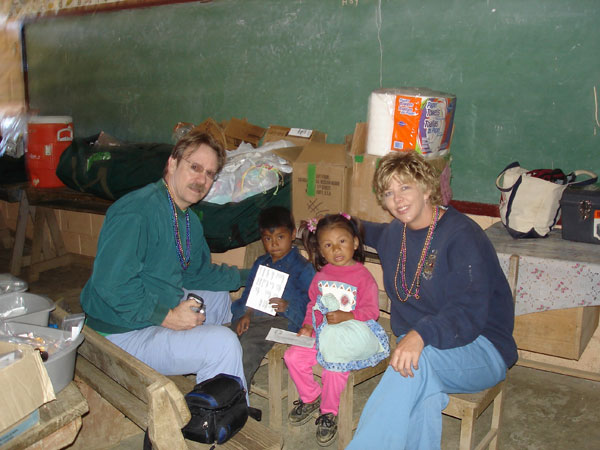 Our brigades travel to Honduras in March of each year for 10-12 days. In 2018, another small medical/dental brigade is traveling to Honduras in August. Active healthcare professionals as well as retired adults and high school seniors and others are a part of our trip. We need doctors, nurses, dentists, dental assistants, pharmacists and other health care providers to apply, as well as individuals who can assist with the Construction team.  We are always on the lookout for translators to help with the trip, while we encourage our volunteers to learn Spanish as we need individuals fluent in the Spanish language.
Our volunteer healthcare specialists and non-specialist set up mobile clinics in remote villages that otherwise would not have access to healthcare. We are able to provide general medical care, wound care, screening gynecological exams, some surgical procedures  and dental care, including extraction and restoration,  and health education. Our pharmacists provide safe distribution of medications to the people. Through the dedicated work of our volunteers we are able to provide reading and sunglasses.
Our healthcare services continue year-round through our support of a full service dental clinic in Pimienta and a medical clinic in San Antonio both built by our construction teams.  It is our mission to ensure the people whom we care for receive follow up care as needed. These clinics and our relationship with the local healthcare professionals make this possible. We also help supply medicine that lasts for several months after we leave. When ordering meds for our annual trip, we order a surplus with the intent of leaving behind medicines for clinics or trained healthcare professional in the area where we have worked.
Our group makes the commitment to pay for whatever care is needed for women who have been screened and tested positive for cervical cancer by our gynecological screeners.  Women who require further testing or treatment are contacted and given money for transportation as well as the procedure itself, be it colposcopy which costs approximately $250.00 or hysterectomy which costs approximately $1400.00. It is our mission to provide any needed care to the some 500-700 women we screen each year on our trips.  We owe a great deal of gratitude to Dr Raul Ugarte,  who coordinates the process in Honduras upon our return to the United States, he is responsible for making sure the women who test positive are notified, transported to  the hospital for treatment and any and all expenses that occur.
Annual Construction Team; each year a team including carpenters, electricians, engineers and other volunteers complete large and small projects ranging from building clinics and homes to improving schools through the addition of electricity or clean water sources.
Because we provide care to people in more remote locations we warn our volunteers that they may sleep on the floor of a church or school and may have outdoor plumbing. We feel that a part of our experience is staying in the community in which we set up our clinics.
Washington Overseas Storage (Bodega) and Short term Residence Facility;  In 2006, a cooperative effort that employed local Honduran workers and members of our construction team designed and began building  our storage facility in the town of Pimienta, Cortes. This was completed in 2009. This facility allows for the receiving of the 40-foot containers shipped from Washington and storing of the contents.
The Bodega also offers 2 large air-conditioned, dormitory-style bedrooms that accommodate approximately 24 people, four fully-equipped bathrooms, a kitchen and a meeting room. The area is secure and guarded and has been used by groups such as healthcare brigades and Engineers without Borders. It is available for groups for a nightly fee and arrangements can be made for prepared meals and laundry.
Interested in becoming a volunteer?  Please contact us to find out more about becoming a volunteer.